Empowering Parents. Exciting Palates.
Raising a good eater is no picknick. Forget about table side battles and plates on the floor. Start your personalised food plan now and get your weekly serving of recipes, tips and challenges, tailored to your baby's needs.

⭐⭐⭐⭐⭐ "Science-backed, but reality-proof"
From tiny tasters to confident eaters
Harnessing the power of early nutrition for picky eating prevention and developmental success.
Taste, Discover, Thrive
We help your child with flavour and texture acceptance and become a full-fledged foodie in no-time.
Empowering independence
With our expert guidance and innovative approach, we transform the process of learning how to eat into an exciting adventure.
Feeding a child? Then you probably...
Recognise this?
You want to raise a good eater
that loves food just a much as you do

Your baby is starting solids
but you're unsure about how to tackle it

You have a picky eater
and are looking for tips to make your lives easier

Your child has an allergy
and you're running out of cooking inspiration
Each week you will get...
We've done the research for you
6 new recipes. Nutritious, age-appropriate and yummy!
A fun challenge to train flavour and texture exposure or motor skills
Easy to apply tips and tricks that will make your life so much easier
An expert article to help you understand your baby's body and needs even better
Is your baby allergic? Just let us know, we'll make sure all recipes are safe
All in your personal dashboard, accessible on any device
How it works?
Tell us more about your baby and start a food journey that's just right.
Based on your child's needs, you get weekly new recipes, tips and challenges that evolve together with your baby. All in your personal dashboard.
Tell us about your baby
Choose your plan
Get access to your personal dashboard
Start the personalised food journey
Words from happy parents
"The platform guides us with the introduction of new flavours and helps us to find that variety of meals that we know are healthy and easy to make."
Reviews
"My son is 10 months old now and Chipea has helped me a lot. He especially loves the banana pancakes!"

Josephine - mum of Francis (Norway)

⭐⭐⭐⭐⭐

"I'm not the best cook but Chipea makes it very easy to make recipes that I know are healthy for my daughter."

Alejandro - dad of Eli (Mexico)

⭐⭐⭐⭐⭐

"I wish I had known Chipea when my daughter was still a bit younger. I would use it from the very first bites!"

Evelien - mum of Ona (Belgium)

⭐⭐⭐⭐⭐

"When my second daughter was born she wasn't gaining weight easily. Chipea helped me find the right ingredients to include in her diet."

Marjolein - mum of Remy & Ada (Belgium)

⭐⭐⭐⭐⭐

"Weekly inspiration with delicious and easy-to-prepare baby dishes! Great way to introduce your child to new types of food and interesting articles that invite both parent and child to take on new but safe challenges."

Jeroen - dad of Morrís (Belgium)

⭐⭐⭐⭐⭐
The faces behind Chipea
Our experts
Janna Schellens
Founder
Janna is a mother and founder of Chipea. She is a feeding specialist, with a special interest in flavour learning and food acceptance in babies and young children.
Ine De Bruycker
Preverbal speech therapist & lactation expert
Chewing, swallowing and learning how to eat in general is Ine's field of expertise. She works closely together with experts in other fields to help parents and their children.
Silke Desaever
Certified nutritionist & lactation expert
Silke is a mom on a mission to help families develop a healthy and happy lifestyle. She shares her expert tips and tricks, gained from years of working with families.
Our Tasting Officers
Non yet certified but very outspoken
We taste test our recipes with the toughest critics out there - you know who they are! We've cleaned food of walls, floors and even dogs, so you don't have to.
On our platform you will get your weekly serving of ...
Age-appropriate recipes
Safe ingredients, textures and cooking methods - every recipe you get will be right for your baby's age and dietary needs
In-depth articles
Looking for some more detailed information. Each week one of our experts weighs in on a topic that's relevant for your baby's developmental stage.
Developmental challenges
Keep up with those milestones. Every week you get another fun challenge to practice your baby's eating skills.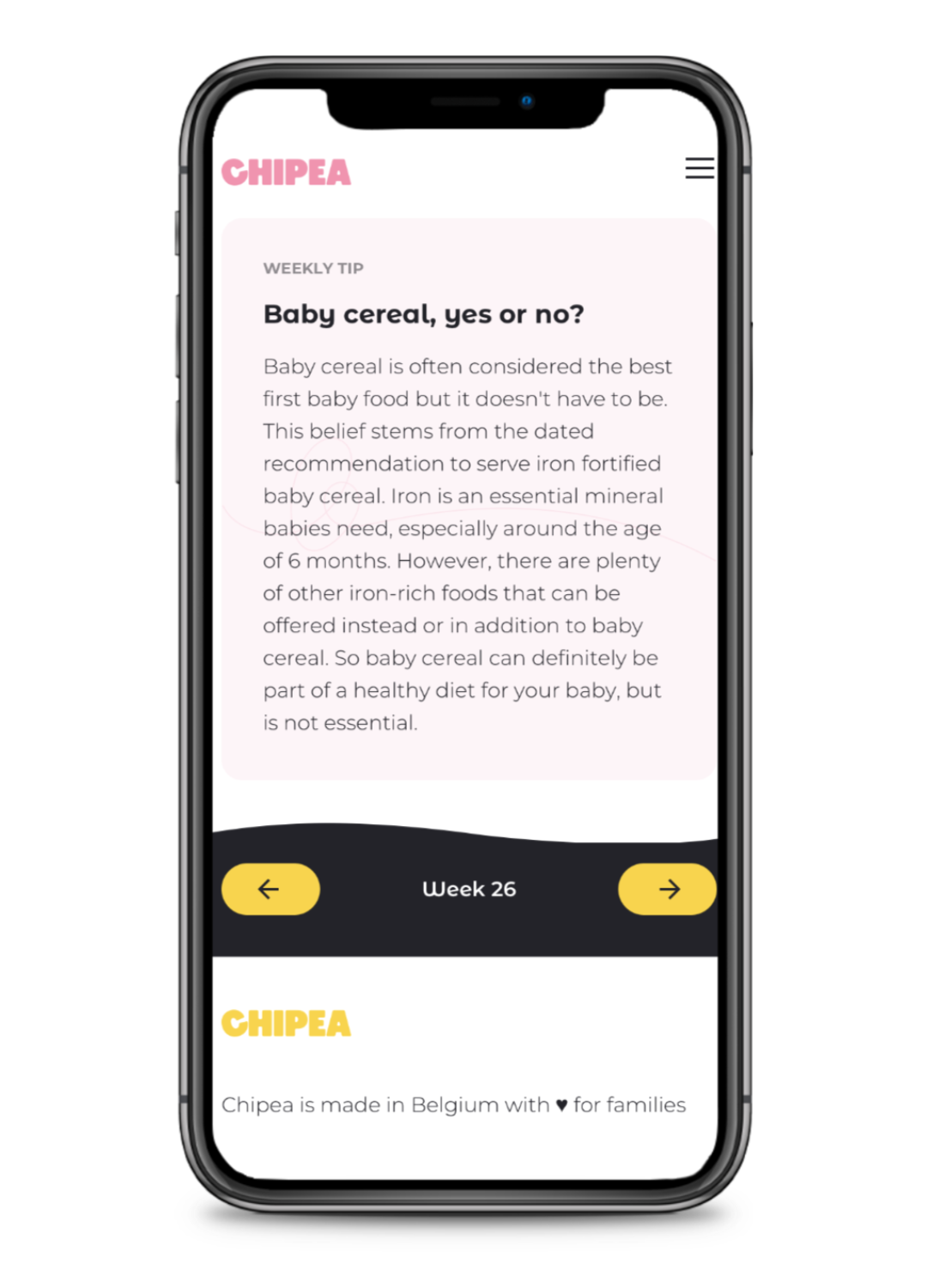 Hands-on tips
Some of these tips will rock your world and make you question how you ever did without them.
Ready to get started?
Maybe you're just getting started or you have a picky toddler at home. With your personalised plan you will be doing the right thing for your baby at the right time. Step by step, week by week.
Baby Journey
Toddler Journey
The Little Foodie pack
0 - 2 years
€ 89,95
One-time payment
+ get access to all our resources forever
+ get our e-book for free
Building our way up from pure to big flavours

Safely serving finger foods and allergens at all ages

Strategies to avoid and remedy picky eating

Age appropriate motor skills practice
Not sure yet? Read our feeding guides.
Our short and snappy hands-on cheat sheets tell you everything you need to know to get started and provide day-to-day guidance on some of your child's most exciting milestones.
How is the Food Journey personalised?

All of what you get - our recipes, tips, challenges and articles - are based on your baby's age and their experience with solids. Aside from that, we take allergies into account and provide you with alternatives to make your and your baby's lives much easier!

How does the Chipea journey work?

You can find all information about how to get started and how the Journey works on this page.

How many recipes will I receive and are they difficult to make?

You will get 6 new recipes each week - except for the very first weeks, since we don't want to overwhelm our baby's taste buds and digestive systems. The recipes are meant to make your life as a caretaker easier, so we made the majority of them very quick and easy. We also have a convenient section in each recipe telling you how to make the dish suitable for adults as well as babies and toddlers. No cooking twice!

What weaning method does Chipea follow?

We are big fans of leaving the parents in charge of choosing a method that works for them and their child! We give options. We serve purees and finger food, we provide you with the knowledge necessary to experiment in a safe way and find the approach that's right for your family. Read more on the Chipea method in our article.

For which ages is the Food Journey?

Whether you're still expecting, you have a baby or a picky toddler, we have the right plan for you. You can get started with the Food Journey at the very beginning or a bit later, and continue all the way up until their second birthday 🥳
Our philosophy
The best feeding method is your method!
When researching feeding methods, it's easy to get caught in a web of well-intentioned but very strong opinions on feeding methods and strict rules that can be overwhelming for young parents. (Mom police, anyone?) What Chipea offers is trustworthy information, inspiration, and guidance, rather than a totalitarian follow-or-fail regime. Whether you're leaning more towards baby led weaning or spoon feeding, we provide you with the knowledge necessary to experiment in a safe way and find the approach that's right for your family.